Edusson — that's an academic resource we're going to be looking at today. It's hardly different from other paper writing services — the company offers a standard selection of custom academic assignments. It claims their experts can provide you with different custom papers at any given time. You may need them for various purposes. The most popular of those include getting higher marks and improving GPA. The service promises full confidentiality and protection of personal information: for example, Edusson agents ask for credit card information. It is a legal and secure website, however, it has certain flaws.
In our Edusson review, students will find out whether this company deserves to be called the best essay service. After reading the information contained herein, you'll be able to decide where this website is a good place to order essays and other papers.
Price
Edusson is no stranger to the paper-writing market, and thus you do not have to spend hours looking for info about it. It can surprise its clients with all kinds of custom essays and academic texts created by freelance authors. The website operates on a bidding system, which means that you're able to choose from a pool of writers from different categories. Providing their level allows it, they can set their own prices. If they feel the price's too low, the writer can decline it. Their potential clients would also be happy to know that the final cost is subject to negotiation.
Prices start from $7.50 per page, which is not the lowest fee, but it isn't the highest, either. Most customers will call their services cheap. Expensive paper writing websites offer prices starting at more than $14 per one page, which is approximately 275 words (double-spaced). It is interesting that editing services here cost much higher (the initial price can be as much as $18/page).
Features and Discounts
At first, our Edusson review found the initial fee pretty affordable. However, later on, you may discover that the payment you offered does not satisfy any of the experts. Therefore, you might need to make it more attractive to them by increasing it. The order goes to the author who is competent in the specific field, has the required academic level, and has accomplished enough papers of similar type successfully.
There is no list of discounts, but customers can negotiate them with the writers. What it means is that one can buy an essay cheaper if their communication skills are sufficiently good. That's what you get for your money:
Product revision
24/7 customer care
Quality assurance
Convenient messaging system
Order tracking and status
A large variety of papers
Our Edusson review also discovered that students can also order proofreading/editing/rewriting if they want.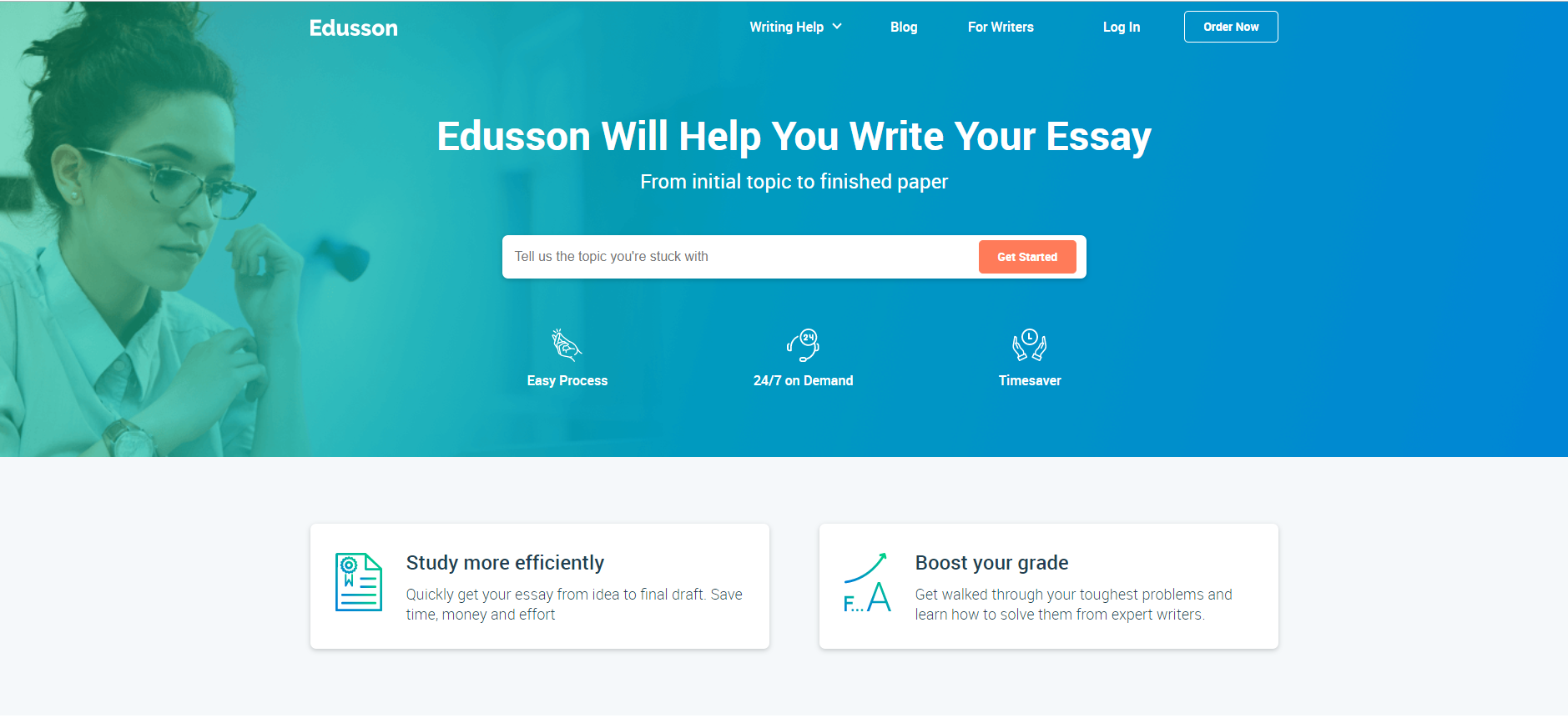 Quality of Writing
Is the local experts' English as good as that of spoken by native language? It depends. They claim that they hire experts from the UK and the US, but some works don't look like they have been done by native speakers. One can easily make sure of that by checking the finished product for grammar mistakes. Some phrases and idioms sound in it may sound weird. Therefore, most reviews are unanimous in one thing — they do hire incompetent writers.
That said, some of their proofreaders aren't that bad, although they aren't native speakers. They do have a good command of English, and you can get some pretty decent papers from them. The sad thing is that the company does not fire incompetent writers. According to what several students told us, they kept getting the same writers, even though they complained about their unprofessionalism. A couple of our Edusson review employees sent their CVs there to try to get a freelance job at Edusson. We did that to test their hiring system. One of them was taken on because he had a well-written resume and successfully passed a simple English test any college student could do.
It appears that they give a chance to almost any second candidate. Evidently, that is their way of saving money. Your chances of having a native speaker assigned to you are pretty low. However, it does not mean that all the essays created by their team end up getting refunded. In most cases, the quality is more or less acceptable.
The company is now using different tools to eliminate any plagiarized work, so they no longer receive complaints about the originality of their services.
Customer Support
It seems Edusson saves money on writers and editors and invests most of its finances into client support. The company has a super-efficient support team, and we really mean what we say. If you are looking for help with any urgent questions or more info about the website, you can get the answers whenever you need them.
Unlike their writers, their customer care department looks and acts far more professional — the support team is responsive, and their work is well-organized. You can contact by clicking on a small circular button in the right corner. Just type in your question or problem, and you will get a helpful answer within seconds.
Website Usability
Fake services frequently have poorly designed sites. Edusson's search system allows students to easily match their assignments with the most suitable solutions. They can obtain all the information they need on the main page. Every page of the site includes a questionnaire that a customer has to fill out if they want to buy a custom essay. The ordering process is pretty straightforward and involves only several simple steps. Usually, clients are requested for:
Topic
Subject
Requirements
Citation standards
Level of work
They will then get redirected to the page with a pool of experts from various academic fields. The database they put together is pretty extensive and easy to use: a student can see an author's rating and review. The company's website also has some good design and convenient navigation – but if to use their services or not is up to you. Our Edusson review team did its best to highlight everything about this company!